The History Of Night Sky Lanterns
Night sky lanterns originate from China and traditionally consist of a thin paper shell containing a candle. The candle is kept away from the flame and the hot air inside the lantern generated from the flame causes the lantern to float into the air and rise towards the sky. The flame can generate enough power to push the lantern up to a mile into the sky. Some see these graceful creations as the first hot air balloons as they tend to mimic their movement and design. When flying a hot air balloon you can keep the flame going, whereas a lanterns flame will eventually fade, sending the lantern gently back down to earth.
Night sky lanterns are traditionally linked to East Asian cultures, and this is mainly where they are cast off into the evening sky. In Asia they are often made from oiled rice paper on a bamboo frame. These magnificent floating lights can range in size from a few centimetres to one or two metres across and they also come in a vast array of vibrant colours. It really does depend on the occasion, from a rainbow of different colours at a festival to a congregation of peaceful white lanterns at a wedding or religious ceremony.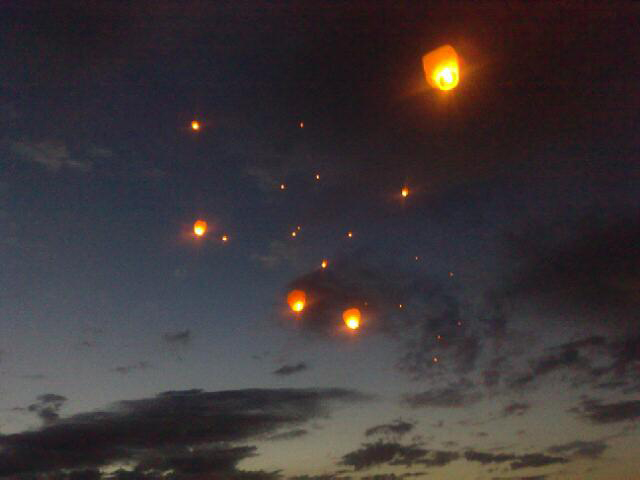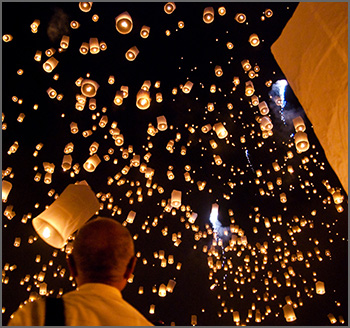 When all is Dark, Let There Be Light
When you first think of a lantern you imagine them floating gracefully into the sky as part of a meaningful event. Many people are surprised when they learn that these dynamic little devices used to be used in wars. When brave soldiers faced the darkness of war, they used light as a way of signalling to their comrades. In Ancient China the lanterns were used as signalling devices to send messages and warn of impending danger. Night sky lanterns are also known as Kongming lanterns, named after Zhuge Liang. There is a legend surrounding Zhuge Liang, who was a military strategist who put a lantern to good use when he was surrounded by the enemy. The story suggests he used one to transport a message. Zhuge Liang was a very famous statesman who many consider one of the best strategists of his era (Three Kingdoms Period 220 -280 AD). Lots of people assume that Zhuge Liang was their original inventor but there is no way to know for certain. Despite this ominous use during war and lengthy history, the lanterns really have not changed all that much over the years. Although they no come in hundreds of different colours, shapes, sizes and designs.

Bring Light and Prosperity

These delicate floating lights are a central part of traditional Asian culture; they have a strong symbolic status and important meaning to the locals. People feel that these spiritual lanterns can give you good luck and prosperity. Imagine placing all your worries and negative thoughts, unloading them into the depths of the lantern and casting them away into the sky. Lots of Asian people will make wishes as they send off their lanterns, believing that their wishes will come true when the lantern glides into the sky. This is partly why they are used so excessively for Chinese New Year, because people hope they will make their wishes become a reality in the New Year.
Follow The Light
The light of the lantern is also supposed to show people the right path to take and this is why it is traditional to offer them to monks and when you are entering temples. Monks will also occasionally use lanterns in ceremonies and take part in releasing them into the sky. Monks are also present at many festivals where lanterns are released such as Yee Peng festival. This adds to the sacred and magical atmosphere as some lanterns can only be released when the monks give the command. Buddhism was very popular in China during the Han Dynasty, so the emperors requested that lanterns were lit in the palace to demonstrate respect on the 15th day of the first lunar month.;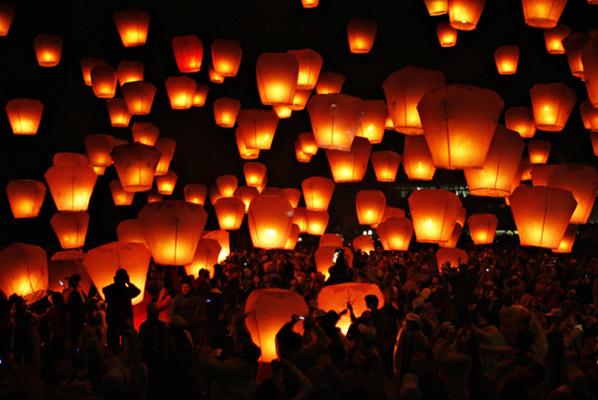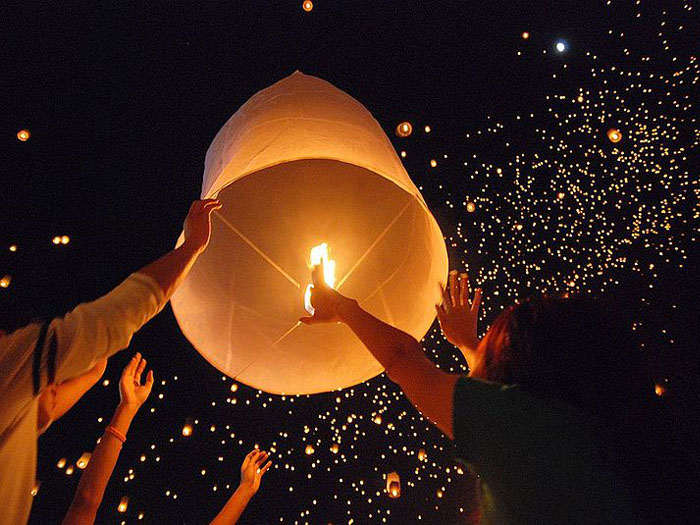 Light Up The Celebrations

Following their military use, lanterns became very popular with children at carnivals, their bright colours and spiritual natural capturing the children's imagination. However, nowadays they are used for many different reasons and occasions. In Asia in particular they are used for big festivals, parties, grand openings, birthdays, memorials and sometimes even weddings. They are perhaps best known now for their alluring presence at major festivals. The Loi Krahtong festival in Thailand is a spectacular festival to witness as you can see literally hundreds of lanterns launched into the air. They seem to fill the entire sky in a moment and leave a beautiful image of light imprinted into your mind. This year they had heart shaped lanterns to celebrate Valentine's Day. Another important festival where lanterns are released in Thailand is Lanna Yi Peng festival. People get together on the riverbanks to release their lanterns in unison.China hosts a lantern festival held on the 15th day of the eighth month in the Chinese calendar. This festival attracts many visitors due to its rich history and reputation as a spectacular sight. Children make their own lanterns and parade through the streets and the Chinese people worship the moon. Make sure you catch one of these festivals on your next trip to Asia as it will be a once in a lifetime experience. Or if you have an important celebration or milestone coming up you could always mark it in a unique and special way by releasing the light of the lantern.